February was packed full of Heka happy excitement!
Keep reading for a full update on our highlights of the month and a sneak peek of what's in store for March.
We launched Heka's Wellness Warriors at Work Community
In a hypercompetitive talent market, employees are looking for something more, something different.
To help you create a human focussed culture and implement life-changing employee benefits, we've launched Heka's Wellness Warriors at Work community!
It is a space designed for wellness-focused professionals like yourself to be inspired, informed and empowered to support the health and wellbeing of your employees and team.
➡️ Digital roundtables to share best practices with fellow professionals.
➡️ Inspiring interviews with CEO's, HR managers, Heads of People and Wellness Warriors who've prioritised the wellbeing of their employees and share advice and tools for you to do the same.
➡️ Valuable strategies and how-to's to improve the employee experience via informative blogs.

Join the community here.
Practical strategies to nurture a wellness-focused culture in 2021
For the latest episode of our Wellness Warriors at Work podcast series we were joined by Donna-Marie Hassett, People Manager at Streetbees, a global intelligence platform that reveals how people behave, by analysing real-life moments collected from users worldwide.
During the interview Donna shared all the initiatives they've implemented to prevent burnout, take care of employees' mental health and create an environment where colleagues are mutually supportive. This could honestly be your 2021 wellness, so definitely check it out if you're looking for inspiration.
Check out the interview in full here.
National Heart Month
Throughout February we've been raising awareness for The British Heart Foundation's National Heart Month by providing Heka users with some helpful resources for cardiovascular health.
This included a short video from our nutritionist provider Hollie Louise. Feel free to view the video below for Hollie's top dietary and lifestyle tips for maintaining a healthy heart.
Memberships
This month we introduced memberships to the Heka platform 🏅
Users receiving monthly Heka credits from their employer can now use this towards a membership with one of our providers.
Our popular fitness provider One Element is now offering Gold and Silver membership plans. This is a great option for our users to save some pennies whilst rapidly improving their cardio, strength and muscular toning at the same time.
We joined Women in Tech for their live webinar - The Art of Confident Communication
Last week Heka's co-founder Steph joined Women in Tech Forum for their latest virtual event: The Art of Confident Communication.
The panel covered how to manage your inner critic and build your self-confidence, how to have a seat AND a voice at the table, and top tips for communicating with confidence.
I wanted to share some of the key takeaways:
➡️ In difficult situations, focus on the 3 C's - be clear, be current, communicate the facts.
➡️ Rather than say "what's the worst that can happen", reframe it to "what's the best that can happen".
➡️ "Fill your confidence pot", keep a record of your successes. When you're having a low confidence day, remind yourself of your successes.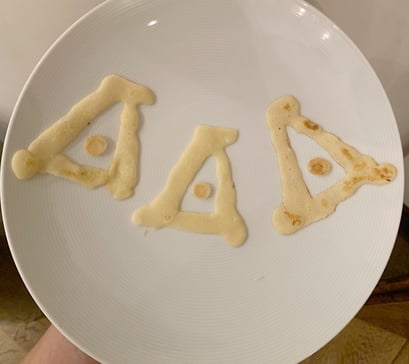 Pancake Day
Earlier in the month, we celebrated Shrove Tuesday by attempting to create the Heka logo in pancake form.
Check out one of the attempts to the right to see what we won't be opening a pancake cafe anytime soon.
---
Coming up…
We'd love for you to join us at our next virtual event on 17th March 8:30 am GMT.
Heka's co-founder Steph will be joined by panellists from two of the top-ranking social media and PR agencies in the UK Katie Finn and Seb Randle to tell us all about designing the virtual employee experience.
We'll address the questions you've been wanting to ask:
➡️ How can we prevent mental health check-ins from becoming exhausting and intrusive?
➡️ Zoom quizzes are not working. What are the alternatives?
➡️ How much flexibility is too much flexibility?
➡️ What to do with virtual onboarding?

Our places are limited, so if you're interested please save your spot by registering here.